ON-DEMAND VIRTUAL EVENT

Why Qualitative Research
Is the Linchpin of Better
AI
Product leaders, designers and researchers are all in the business of building smarter technology.

That's why we don't need to worry — the robots aren't taking over anytime soon. Humans will always need to make hard decisions when artificial intelligence falls short.

Anthropologist and media scholar Mary L. Gray has spent her distinguished career exploring this intersection of people and technology. Through her research, she has uncovered principles for building digital experiences that transform our lives for the better.

Join Mary to hear first-hand how her research will impact technology companies going forward.
Research & AI: A Blueprint for Product Teams
Join the conversation to discover...
💡The latest research about qualitative research in product design, machine learning and AI

💡Expert recommendations for building more responsible technology

💡The tools you need to conduct rigorous qualitative research

💡Practical steps you can take today to build ethical products in the future
Mary L. Gray is a senior principal researcher at Microsoft Research and a faculty associate at Harvard University's Berkman Klein Center for Internet and Society. She also holds a faculty position at Indiana University. In 2020, she was named a MacArthur Fellow for her work in anthropology and study of technology and society.

She has written multiple books, including In Your Face: Stories from the Lives of Queer Youth and Out in the Country: Youth, Media, and Queer Visibility in Rural America. In 2019, Mary co-wrote with computer scientist Siddharth Suri the book "Ghost Work: How to Stop Silicon Valley from Building a New Global Underclass."

In 2004, Mary earned her Ph.D. in communication from the University of California at San Diego.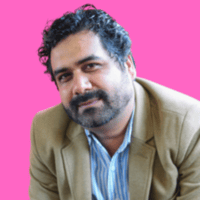 Prayag Narula is an entrepreneur and trained researcher who is dedicated to building the technology he always wished he had when conducting user research.
He is the co-founder and CEO of HeyMarvin, a qualitative user research platform that elevates the voice of your customers so you design exactly what they need.
Previously, Prayag cofounded and led LeadGenius, a venture-backed company that helps B2B sales and marketing teams save time and deliver on their revenue goals.
Prayag studied at the UC Berkeley School of Information, and he is the published author of several research papers on Human Centered Design.